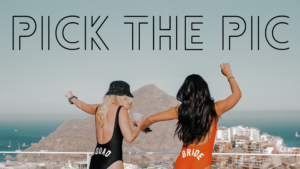 I have been immersed in planning a dear friend's bachelorette party and was trying to think of fresh and new games for the gals to enjoy and especially, the bride. We know all the classics…would she rather, bingo, truth or dare and the list goes on. During the middle of the night, it hit me! The bride LOVES pictures and lets be honest…who doesn't like an awesome (well hopefully awesome) candid shot of themselves!
So…
Here is the game. "Pick the Pic"
Every guest at the party takes ONE candid picture of the bride at some point during the party. And ONE planned picture of the bride being as creative as they want.
Then…
You have one designated guest collect all the candid pictures to send to the bride to pick her favorite picture without knowing who took it! Plan for this game to happen near the end of the party or before the group parts ways. The candid picture chosen is the winner of the game!
BONUS…
You can also send all of the planned pictures to the bride and have her choose her favorite photograph for an additional winner!
This is a FRESH and NEW game to foster creativity and capture genuine moments as well as bless the bride with beautiful pictures of the queen she is to remember her special party and moments with her most favorite gals!
Please share and comment your experience of this fun NEW game!